Mon 6th Jul 2020
Hildon Archie David Cup Final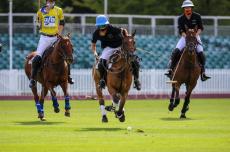 Convincing win for Clarita

Yesterday, Sunday 5 July, Clarita faced AFB in The Hildon Archie David Final at Guards Polo Club. Clive Reid was no doubt hoping to replicate his win with his AFB team a decade earlier. The Final was livestreamed via Guards TV and if you didn't manage to watch the Final live you can still watch the action by clicking here. 15 teams entered this year's tournament, which forms part of the Hurlingham Polo Association's 8 Goal Victor Ludorum series.
Clarita secured themselves a convincing 9-4 win against AFB, dominating the Final of the UK's leading 8 goal tournament. 14-year-old Louis Hine became the youngest player to win The Hildon Archie David Cup. Scoring five goals, Louis had an outstanding match and was awarded the Hildon Most Valuable Player award.
Clarita dominated play from the outset and by half-time held a strong 5-1 lead. AFB managed to pull themselves back into the game in the second half, but it wasn't enough and Clarita added their name to the coveted trophy. Clarita's Jack Hyde, took home the Hildon Best Playing Pony rug for Molly.
In The Subsidiary Final for The Caterham Cup was equally competitive, which saw Louise Jebson's CANI narrowly defeat Cuatro Estrellas 7-6 on The Duke's Ground.
Additionally, the Guards teams which were knocked out of the tournament after the league stages had the opportunity to play for The Claude Pert Cup, named after former military player who was the Polo Manager at Guards Polo Club from 1957-1975. This year's Claude Pert Cup winners were Christian Oberschneider and Ana Escobedo's Ojo Caliente/La Golondrina who beat Nick Beitner's Pink Power, 8-4.
Hildon Archie David Final & Subsidiary Final Teams:
Clarita (8): Chris Mathias (0); Louis Hine (1); Jack Hyde (4); Freddie Horne (3)
AFB (8): Clive Reid (0), Alfie Hyde (1), Tommy Moreno (3) & Pete Webb (4)
CANI (8): Louise Jebson (0), Celio Garcera(1), Sebastian Chialvo (2) & Matias Amaya (5)
Cuatro Estrellas (8): Terence Lent (2), Harry Muddle (2), Oli Hipwood (4) & Millie Hughes (0)
The Claude Pert Cup Teams:
Ojo Caliente/La Golondrina (8): Christian Oberschneider (1), Ana Escobedo (0), Jonny Good (4) & Adolfo Casabal (3)
Pink Power (8): Nick Beitner (1), Ludo Ephson (2), Louis Heard (1) & Tom Brodie (4)
Photograph: Hildon Archie David Cup Final MVP winner, Louis Hine, in action. By ©Hannah Wyles/www.imagesofpolo.com

Other top stories
Tue 4th Aug 2020
Polo Times Out This Week!
August issue arriving soon
Mon 3rd Aug 2020
Cartier Queen's Cup Update
Weekend wins for Park Place & Scone Polo

Fri 31st Jul 2020
Cartier Queen's Cup Week 1
Wins for Thai Polo, MT Vikings, Monterosso & Park Place
Thu 30th Jul 2020
International Begins at Santa María
49th MANSION International Polo Tournament
Wed 29th Jul 2020
HPA Mid-Season Handicap Changes
Raises for Castagnola & Cambiaso

Tue 28th Jul 2020
Cartier Queen's Cup Begins Today!
Scone Polo vs Thai Polo
Mon 27th Jul 2020
Next Generation Secure Gold Cup
Adolfo Cambiaso's eighth win

Fri 24th Jul 2020
Gold Cup Final This Weekend
Les Lions/Great Oaks vs Next Generation
Thu 23rd Jul 2020
Competitive Polo Resumes at All Levels in England
HPA Update No11

Wed 22nd Jul 2020
King Power Gold Cup Semi Finals Set
Action continues today!
Tue 21st Jul 2020
Victorious Monterosso Vikings
British Ladies Open Final
Mon 20th Jul 2020
Kildare Win Indian Empire Shield
9-7 win against Emlor
Thu 16th Jul 2020
Park Place Secure Two Semi Final Spots
Both organisation's teams are in The King Power Gold Cup Semi Finals

Wed 15th Jul 2020
King Power Gold Cup & British Ladies Open
Action aplenty at Cowdray Park
Mon 13th Jul 2020
Snakebite Secure Eduardo Moore Final
Emlor Black win Subsidiary Final
Fri 10th Jul 2020
Double Win for Park Place
Day 5 of King Power Gold Cup

Thu 9th Jul 2020
HPA Update No 10
Positive news for polo
Thu 9th Jul 2020
Polo Times July Issue Out Soon!
Packed Knowledge, Feature & Report pages
Tue 7th Jul 2020
Wins for Thai Polo NW & Next Generation
King Power Gold Cup round two results
Mon 6th Jul 2020
Hildon Archie David Cup Final
Convincing win for Clarita