Thu 3rd Sep 2020
Deauville Gold Cup Final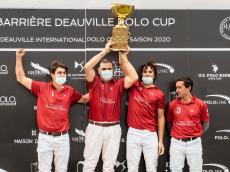 Historic win for Aznar family

This year saw the Gold Cup at Deauville International Polo Club celebrate its 70th anniversary, an impressive feat. Marqués de Riscal and Barrière faced each other in the Final of the 70th Martha & Lucien Barrière Gold Cup in front of over 2,000 spectators. Both teams were eager to claim the historic trophy and from the first chukka, it was clear it was going to be an intense competition with end-to-end play. The competition reached a peak in the fourth chukka, which was marred with fouls and even saw Alejandro Aznar temporarily excluded from the match. Marqués de Riscal's Alejandro Muzzio, later named the Most Valuable Player, sent home the winning goal from a penalty, to secure an 8-5 win for the Aznar – 40 years after his father had claimed the Deauville Gold Cup.
Machitos Vitamina, an 11-year-old mare bred by Mariano Aguerre and played by Martin Aguerre was the Best Playing Pony.
Aznar commented, "It's emotional, indeed, it's been five times that I've tried to win this Golden Cup. The match was tense, but I am very happy. I'm especially happy about this goal scored with a mare from my breeding, I'm proud of it. I have ten mares for my breeding and it is a great satisfaction when their offspring reach this level. Then, after this goal, it's true that I got banished two minutes (laughs), I'm a little bit hot, you know, Spanish blood! To tell the truth, I was hit by a player in the leg and it hurt and I shouted at him, but the referee took it for him and sent me to the sidelines. But that didn't affect the result, they didn't score during that time."
The thirty strong troupe of Marqués de Riscal's polo ponies have now moved on to Chantilly, to try and win the third phase of the French Triple Crown, the French Open, which they won in 2019. Marqués de Riscal will have to defend their title against seven teams, each with an impressive team line-up, with players including Barto and Camilo 'Jeta' Castagnola, Guillermo Terrera, Fran Elizalde and Juan Gris Zavaleta, to name but a few.
70th Martha & Lucien Barrière Gold Cup Final Teams:
Marqués de Riscal (16): Luis Aznar (1), Santiago Cernadas (7), Alejandro Muzzio (8) & Alejandro Aznar (0)
Barrière (16): Ignacio Kennedy (4), Jota Chavanne (5), Martin Aguerre Jr. (7) & Tommy Rinderknecht (0)
Photograph: Marqués de Riscal, winners of the 70th Martha & Lucien Barrière Gold Cup. By RB Presse

Other top stories
Fri 27th Nov 2020
127th HSBC Argentine Open Begins This Weekend
Full schedule & team lists
Mon 23rd Nov 2020
Ellerstina Win Hurlingham Open
16-11 win against RS Murus Sanctus
Thu 19th Nov 2020
Ellerstina Reach Hurlingham Final
15-10 win against La Natividad/Las Monjitas
Wed 18th Nov 2020
RS Murus Sanctus Qualify for Hurlingham Open Final
Newcomers overwhelm title holders
Tue 17th Nov 2020
Cría GT & La Irenita II Qualify
Both teams secure places in 2020 Argentine Open
Mon 16th Nov 2020
Hurlingham Open Semi Finalists Decided
La Dolfina Saudi vs RS Murus Sanctus & Ellerstina vs La Natividad/Las Monjitas
Sat 14th Nov 2020
Polo Times November Issue
Latest issue out this week!
Fri 13th Nov 2020
Classification Tournament Continues
Wins for La Esquina & Cría GT

Thu 12th Nov 2020
HPA Announce Covid Crisis Aid
Polo Charity grants available
Wed 11th Nov 2020
Ellerstina Retain Tortugas Title
Impressive defeat of La Dolfina Saudi
Tue 10th Nov 2020
UK Winter Polo Lockdown Rules
No polo to be played at affiliated clubs during lockdown 2.0
Mon 9th Nov 2020
Tortugas Final Set for Tomorrow
La Dolfina Saudi vs Ellerstina
Tue 3rd Nov 2020
Both La Dolfina Teams to Contend Semi Finals
Second day of Tortugas Open action
Mon 2nd Nov 2020
Tortugas Open Underway
Wins for Ellerstina & RS Murus Sanctus