Wed 28th Apr 2021
USPA Outdoor Handicap Changes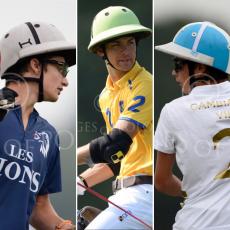 Raises for Britos, Cambiaso Jnr & Castagnola

Yesterday, Tuesday 27 April, after the culmination of the high goal season in Palm Beach, the United States Polo Association (USPA) announced their 2021 Outdoor Handicap Changes. In total there were five pages of changes, click
here
to view the full list of changes.
At the top of the list are Camilo 'Jeta' Castagnola and Juan Britos, who will be raised from from 8 to 9 as of June 2022, an unsurprising raise for Britos following his successes in The Gauntlet of Polo (winning The C.V. Whitney Cup and runner up in The U.S. Open with Park Place). Poroto Cambiaso has also seen his handicap raised not once but twice in the same listing, from 1 June 2021 he will go from 6 to 8 and then again from 8 to 9 on 1 January 2022 – he is the only player to have received a double change this year.
Other changes at the higher levels include: Tomas Panelo, Jorge Fernandez Ocampo Jr, Mariano Gonzalez Jr and Felipe Vercellino raised from 6 to 7; Marcos Alberdi, Matt Coppolo, Nico Escobar, Lucio Fernandez Ocampo and Hilario Figueras raised from 4 to 5.
Photograph: Britos, Cambiaso Jnr & Castagnola have all had their handicaps raised in the US. by ©www.imagesofpolo.com

Other top stories
Wed 16th Jun 2021
Polo Rider Cup Semi Finalists
Polo Park Zürich vs Empire Polo Club & Hong Kong Polo vs Deauville Int. Polo Club
Tue 15th Jun 2021
Talacrest to Sponsor Guard's August 22 Goal
Prince of Wales's Championship Cup
Mon 14th Jun 2021
Monterosso Remain Undefeated
2021 Cartier Queen's Cup

Tue 8th Jun 2021
Oxford Retain La Martina Varsity Trophy
Win against historic rivals
Mon 7th Jun 2021
Cartier Queen's Cup Weekend Action
Wins for Great Oaks LL, UAE Polo, Vikings & Park Place
Sun 6th Jun 2021
Horace Laffaye Passes Away
The Polo Encyclopaedia author
Wed 2nd Jun 2021
Wins for Talandracas and Great Oaks Les Lions
Cartier Queen's Cup Day 1
Wed 2nd Jun 2021
Delfín Uranga New AAP President
Tue 1st Jun 2021
Cartier Queen's Cup Begins Today!
15 teams competing in three leagues
Tue 1st Jun 2021
Thai Polo Thrill in Prince of Wales Final
Louis Hine scores golden goal

Thu 27th May 2021
Justerini & Brooks Prince of Wales Final
Thai Polo & Monterosso qualify
Wed 19th May 2021
Cartier Queen's Cup Draw
15 teams line-up for 2021 tournament