Wed 28th Apr 2021
USPA Outdoor Handicap Changes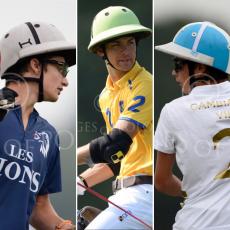 Raises for Britos, Cambiaso Jnr & Castagnola

Yesterday, Tuesday 27 April, after the culmination of the high goal season in Palm Beach, the United States Polo Association (USPA) announced their 2021 Outdoor Handicap Changes. In total there were five pages of changes, click
here
to view the full list of changes.
At the top of the list are Camilo 'Jeta' Castagnola and Juan Britos, who will be raised from from 8 to 9 as of June 2022, an unsurprising raise for Britos following his successes in The Gauntlet of Polo (winning The C.V. Whitney Cup and runner up in The U.S. Open with Park Place). Poroto Cambiaso has also seen his handicap raised not once but twice in the same listing, from 1 June 2021 he will go from 6 to 8 and then again from 8 to 9 on 1 January 2022 – he is the only player to have received a double change this year.
Other changes at the higher levels include: Tomas Panelo, Jorge Fernandez Ocampo Jr, Mariano Gonzalez Jr and Felipe Vercellino raised from 6 to 7; Marcos Alberdi, Matt Coppolo, Nico Escobar, Lucio Fernandez Ocampo and Hilario Figueras raised from 4 to 5.
Photograph: Britos, Cambiaso Jnr & Castagnola have all had their handicaps raised in the US. by ©www.imagesofpolo.com

Other top stories
Thu 13th May 2021
Spectators Allowed After 17 May
HPA Summer Polo Procedures
Mon 10th May 2021
Polo Times May Issue Out This Week!
English season beginning
Wed 5th May 2021
Argentine Spring Season Shaping Up
Teams announced for Triple Crown & Classification
Tue 4th May 2021
Justerini & Brooks Prince of Wales
2021 Teams & schedule

Fri 30th Apr 2021
The Prince of Wales's Championship Cup
New English 22 goal tournament details announced
Wed 28th Apr 2021
USPA Outdoor Handicap Changes
Raises for Britos, Cambiaso Jnr & Castagnola
Mon 26th Apr 2021
Argentine Spring Season Rescheduled
Due to Covid-19 second wave
Sun 25th Apr 2021
Francisco Dorignac 1938 – 2021
Former AAP President & renowned polo player
Wed 21st Apr 2021
Richard Mille Win Triple Crown of Polo
WPL continues today with Beach Polo World Cup
Tue 20th Apr 2021
14 Teams Confirmed for English High Goal
Season begins on 13 May at RCBPC
Mon 19th Apr 2021
Scone Secure US Open!
Father-son Cambiaso duo dominate
Sat 17th Apr 2021
Los Sauces Succeed in Ladies Masters Cup
Seven teams compete in inaugural tournament
Fri 16th Apr 2021
Scone & Park Place Reach Final
US Open Polo Championship