Tue 17th Aug 2021
Sotogrande Silver Cup Winners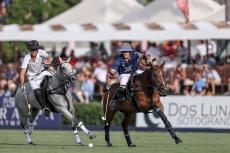 Success for John Smith Ayala & Ayala

Friday 13 is considered unlucky by most, but not for John Smith Ayala who enjoyed a 14-11 win against Cibao La Pampa in the medium goal Terralpa Silver Cup Final at Santa María Polo Club. Despite a descending fog, John Smith Ayala dominated the first chukka, however Cibao La Pampa managed to level the scores and even managed to tie; yet going into the last chukka John Smith Ayala managed to widen and maintain their advantage to secure the trophy. Alejandro Muzzio was named Most Valuable Player while Dolfina Minifalda, played by Patricio Cieza and owned by Adolfo Cambiaso was the Best Playing Pony.
The following day, Saturday 14 August, The Terralpa Silver Cup came to an end with the high goal Final between BN Polo and Ayala, the tournament marks the second phase of the 50th International Polo Tournament. The first two chukkas had the spectators on the edge of their seats as both teams exchanged goals to tie 5-5, however BN Polo took a two goal lead in the third chukka, with Ayala closing the gap with a goal of their own. Ayala managed to find their form in the second half, producing five unanswered goals. While BN Polo tried to get back onto the scoreboard, Ayala managed to hold them at bay and with Polito Pieres (later named Most Valuable Player) scoring 10 goals in total for Ayala, they lifted the cup high. Fanta, played by Pieres and owned by Juan Martín Nero was the Best Playing Pony, while Lavinia Cautiva, played by Hilario Ulloa, was the Best Argentine Bred Pony.
The Medium Goal Terralpa Silver Cup Final Teams:
John Smith Ayala (14): Gabriel Aguirre (0), Gregorio Gelosi (4), Alejandro Muzzio (8) & Nicolás Álvarez (2)
Cibao La Pampa (14): Juan Pepa (1), Patricio Neves (4), Patricio Cieza (6) & Jorge Pepa (3)
The High Goal Terralpa Silver Cup Final Teams:
Ayala (20): Iñigo Zobel (0), Benjamin Panelo (5) (replaced by Mackenzie Weisz (4) in the fourth chukka), Santiago Laborde (6) & Pablo Pieres (9) otal: 20.
BN Polo (20): Babar Nassem (0), Marcos Araya (6), Hilario Ulloa (10) & Pelayo Berazadi (4)
Photograph: Action from the high goal Terralpa Silver Cup Final. By Matias Callejo

Other top stories
Fri 17th Sep 2021
Engel & Völkers Open de France
Semi Finals Today!
Thu 16th Sep 2021
Sandpolo Returns Tomorrow
British Beach Polo Championships celebrate 14th year & U.S. Polo Assn. as the official apparel partner
Tue 14th Sep 2021
Autumn Nations Trophy
Green Gates retain title
Mon 13th Sep 2021
FIP XIII European Championship Underway
Opening win for Spain
Fri 10th Sep 2021
FIP Ladies' European Championship England Team Announced
Wed 8th Sep 2021
Argentine Legends Return
AAP's over 40s Legends Cup
Tue 7th Sep 2021
Olly Hughes Running Manchester Marathon
Mon 6th Sep 2021
Post-Brexit Right to Work
EU workers' rights
Thu 2nd Sep 2021
Guards Ladies Charity Tournament
Victory for UAE Polo Team
Wed 1st Sep 2021
Sotogrande Gold Cups
Success for John Smith Ayala & Marqués de Riscal
Tue 31st Aug 2021
Coupe d'Or Final
Los Dragones find fifth chukka form to secure victory in Deauville

Fri 27th Aug 2021
Prince Harry Plays in Sentebale ISPIS Handa Polo Cup
Charity & polo across the pond
Wed 25th Aug 2021
Pony Club Polo Championship 2021 Results
Packed weekend at Offchurch Bury
Tue 24th Aug 2021
Polo Times Out Now!
Don't miss out on our packed August issue
Mon 23rd Aug 2021
Park Place Win Talacrest 22 Goal
Borodin's team secures inaugural 22 goal