Tue 9th Nov 2021
El Overo UAE Secure Copa Pilar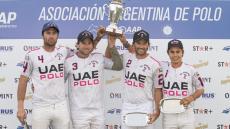 Spectacular fifth chukka success

On Friday 5 November, El Overo UAE defeated Nuestra Tierra 11-8 in The Copa Pilar Final at the Alfredo Lalor de Pilar headquarters. The first half was very even between the two teams and saw Nuestra Tierra get off to a strong start, scoring two early goals. However, El Overo UAE had a fantastic fifth chukka, with a solid run from Alfredo Cappella meaning they dominated the scoreboard and inched closer to the title. The sixth chukka saw Lucas Monteverde score a decisive goal for El Overo UAE, which cemented their 11-8 victory.
Copa Pilar Teams:
El Overo UAE (28): Lucas Monteverde (5), Valerio Zubiaurre (7), Matías Torres Zavaleta (8) & Alfredo Cappella Barabucci (8)
Nuestra Tierra (27): Alejandro Muzzio (8), Juan Jauretche (7), Santiago Laborde (6) & Jared Zenni (6)
Photograph: El Overo UAE, winners of The Copa Pilar. Matías Callejo / Prensa AAP

Other top stories
Tue 9th Aug 2022
Silver Cup Success for BenSoleimani.com
Jeff Hall's tenth tournament title
Mon 8th Aug 2022
Talacrest Prince of Wales's Championship Cup
Semi Finals Set for Wednesday
Sun 7th Aug 2022
UAE Polo Claim Countess Lilias Cup
8-4 win against Semper Anticus
Sat 6th Aug 2022
FIP Arena Polo European Championship
Mon 1st Aug 2022
Polo Times August Issue Out This Week
Reports, Features, Social & much more!
Thu 28th Jul 2022
Talacrest Prince of Wales's Championship Cup Day 1
Wins for Monterosso & Vikings
Wed 27th Jul 2022
51st Sotogrande International Polo Tournament Underway
Action aplenty in low & medium levels
Tue 26th Jul 2022
Talacrest Prince of Wales's Championship Cup
22 goal tournament begins on Wednesday
Mon 25th Jul 2022
England Lift Coronation Cup
Narrow 11-9 win against Uruguay

Sun 24th Jul 2022
Sotogrande International Polo Tournament Begins Tomorrow
21 teams competing over high, medium & low goal

Sat 23rd Jul 2022
The Engel & Völkers French Open
14 teams entered in this year's tournament
Thu 21st Jul 2022
The Hurlingham Polo 1875 International Day for The Coronation Cup 2022
This Saturday, 23 July, at Guards Polo Club
Wed 20th Jul 2022
Ladies British Open & High Goal Championship
16 & 22 goal at Cowdray

Tue 19th Jul 2022
Black Bears Lift Indian Empire Shield
Narrow 7-6 win against Emlor Black

Mon 18th Jul 2022
First Ever Gold Cup Win for Park Place
An impressive performance all round
Fri 15th Jul 2022
New HPA Director of Sport
Thu 14th Jul 2022
Sunday's Cowdray Gold Cup Final Set: Dubai vs Park Place
Semi Final results
Wed 13th Jul 2022
Hurlingham 1875 Announced as Coronation Cup Title Sponsor

Tue 12th Jul 2022
Out-Sourcing Inc. Royal Charity Polo Cup
HRH The Duke of Cambridge wins
Mon 11th Jul 2022
Gold Cup Semi Finals Set
Dubai vs Scone & Park Place vs Talandracas

Sun 10th Jul 2022
Confido Claim the Queen Mother Trophy
8-4 win against Sona Polo