Mon 8th Nov 2021
Hurlingham Open History Made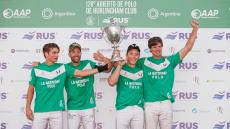 La Natividad add names to history books

History was made on Saturday 6 November, as La Natividad defeated RS Murus Sanctus 14-8 and secured the team's first ever Triple Crown title. This was also the first Triple Crown title for the Castagnola brothers, Jeta and Barto and team mate Ignatius du Plessi, as well as being the first Argentine Triple Crown title for 13 years and 38 Finals not to feature either La Dolfina or Ellerstina; this was Polito Pieres' fourth Hurlingham Open title, having won in 2016, 2017 and 2018 with Ellerstina.
La Natividad had an excellent Final from the offset, always managing to maintain a few goals in advantage and limiting the effectiveness of RS Murus Sanctus' 10 goal powerhouse, Juan Martín Nero, which meant that over four chukkas Nero was not able to convert goals nor capitalise on fouling opportunities. This combined with the unstoppable forward power or Jeta Castagnola and Pieres, the solid backdoor of du Plessis and Barto Castagnola scoring an impressive nine goals, saw La Natividad secure the title, much to the delight of the onlooking supporters, family and friends who have been aiming for these heights for many years.
Barto Castagnola was the tournament top scorer, with 31 goals; Pieres was named Most Valuable Player; Open Voina (Ellerstina Pícaro x Grappa Gallera), played by Pablo Pieres, was the Daniel Kearney Cup Best Playing Pony; Monkey Puzzle (Osh Kosh x Cheeky Monkey SPC), played by Pablo Pieres, was the AAP's Best Playing Pony and Latia Ramona (Open Cabernet x Future Rayuela), played by Barto Castagnola, was the Best Polo Argentino Bred.
On an interesting side note, Monkey Puzzle – the Daniel Kearney Cup Best Playing Pony – was chosen as the Polo Times Best Playing Pony at The Valerie Halford Memorial Trophy at Guards Polo Club in June 2019!
Hurlingham Open Final Teams:
La Natividad (36): Camilo Castagnola (9), Polito Pieres (9), Bartolomé Castagnola Jr. (9) & Ignatius du Plessis (9)
RS Murus Sanctus (39): Facundo Sola (9), Guillermo Caset (10), Pablo Mac Donough (10) & Juan Martín Nero (10)
Photograph: La Natividad, winners of The Hurlingham Open. By Matías Callejo / Prensa AAP

Other top stories
Tue 9th Aug 2022
Silver Cup Success for BenSoleimani.com
Jeff Hall's tenth tournament title
Mon 8th Aug 2022
Talacrest Prince of Wales's Championship Cup
Semi Finals Set for Wednesday
Sun 7th Aug 2022
UAE Polo Claim Countess Lilias Cup
8-4 win against Semper Anticus
Sat 6th Aug 2022
FIP Arena Polo European Championship
Mon 1st Aug 2022
Polo Times August Issue Out This Week
Reports, Features, Social & much more!
Thu 28th Jul 2022
Talacrest Prince of Wales's Championship Cup Day 1
Wins for Monterosso & Vikings
Wed 27th Jul 2022
51st Sotogrande International Polo Tournament Underway
Action aplenty in low & medium levels
Tue 26th Jul 2022
Talacrest Prince of Wales's Championship Cup
22 goal tournament begins on Wednesday
Mon 25th Jul 2022
England Lift Coronation Cup
Narrow 11-9 win against Uruguay

Sun 24th Jul 2022
Sotogrande International Polo Tournament Begins Tomorrow
21 teams competing over high, medium & low goal

Sat 23rd Jul 2022
The Engel & Völkers French Open
14 teams entered in this year's tournament
Thu 21st Jul 2022
The Hurlingham Polo 1875 International Day for The Coronation Cup 2022
This Saturday, 23 July, at Guards Polo Club
Wed 20th Jul 2022
Ladies British Open & High Goal Championship
16 & 22 goal at Cowdray

Tue 19th Jul 2022
Black Bears Lift Indian Empire Shield
Narrow 7-6 win against Emlor Black

Mon 18th Jul 2022
First Ever Gold Cup Win for Park Place
An impressive performance all round
Fri 15th Jul 2022
New HPA Director of Sport
Thu 14th Jul 2022
Sunday's Cowdray Gold Cup Final Set: Dubai vs Park Place
Semi Final results
Wed 13th Jul 2022
Hurlingham 1875 Announced as Coronation Cup Title Sponsor

Tue 12th Jul 2022
Out-Sourcing Inc. Royal Charity Polo Cup
HRH The Duke of Cambridge wins
Mon 11th Jul 2022
Gold Cup Semi Finals Set
Dubai vs Scone & Park Place vs Talandracas

Sun 10th Jul 2022
Confido Claim the Queen Mother Trophy
8-4 win against Sona Polo